WG Increasing Competence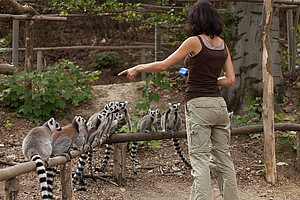 Objectives: Good training, as well as lasting ABM with a positive impact on the well-being of the animals, require skills and knowledge, that are difficult to acquire without proper guidance. However, both cannot be effectively taught unless the premises under which the training and ABM measures occur are known. To achieve an optimal and long-lasting impact, it is therefore essential for PRT/ABM lecturers to visit and know about the specific conditions of the facilities. The objective is to provide in-house and online lectures on different topics of training, ABM and Animal Welfare Science, as well as educate staff on ABM/NHP training.
Tasks: between one and three experienced trainers will visit primate facilities to give lectures on PRT/ABM to in-house staff and give advice tailored to the needs of the facility and staff. One Workshop and two Training Schools will complement the WG activities.
Milestones: Increase NHP training competence in Europe.
Deliverables: Two in-house lectures/webinars per year; Workshop: Teaching ABM/Laboratory
NHP/animal training, WG Meetings; two Training Schools on ABM/NHP training.