14th FELASA Congress, Prague, 10-13 June 2019
Save as calendar entry
Scientific Programme Highlights
Rodent health monitoring, microbiota, gnotobiology, thermo-neutrality
Aquatics care, health monitoring and severity classification
Other species: NHP, farm animals, wild animals, alternatives
Management program, facility design, databases, imaging, home cage monitoring
Institutional challenges: communication in the establishment, working with CRO, transparency/openness, genetic advances and quality
Ethical challenges: AWB abilities, ending severe suffering, pain assessment, peri-operative care, 3R implementation, rehoming, transport, warfare, project evaluation, human committees, reproducibility
Education and training: accreditation, animal carer education, competency assessment, managers' education
Animal Research Reporting: aid to experimental design, responsible research, sex bias, funding and reporting 3R research, peer reviewing challenges, reproducibility
Severity workshops: 1 train the trainers, 4 severity and classification
European Directive revision and remaining implementation challenges
January 31, 2019: Abstract submission deadline
March 31, 2019: Early registration deadline
Administration
Organising committee; Chair: Jan Honetschläger; Members: Martin Kuneš, Hanna-Marja Voipio Ana Isabel Santos, Siyami Karahan, Klas Abelson, Heinz Brandstetter, Peter Neradil, Jan Bas Prins, Marek Baxa; Scientific committee; Chair: Jean-Philippe Mocho; Members: Ann-Dominique Degryse, Anna Olsson, Beat Riederer, Belén Pintado, Boris Jerchov, David Anderson, Gianni Dal Negro, Isabelle Desbaillets, Ismene Dontas, Jan Langermans, Jana Plevkova, Jussi Helppi, Marcel Gyger, Martin Kunes, Martina Dorsch, Martje Fentener van Vlissingen, Nuno Franco, Pavel Stopka Timo Nevalainen, Viktor Sykora; Project management: Romana Klukova (Project Manager - GUARANT International), Martin Roucek (Sponsoring Manager - GUARANT International)
Anfahrtswege zum DPZ
Lageplan des DPZ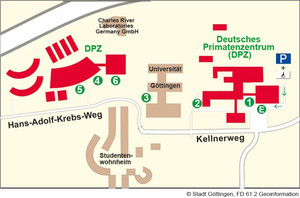 E - Haupteingang/Anmeldung
1 - Geschäftsführung; Abteilungen: Infektionsbiologie/-modelle, Versuchstierkunde, Primatengenetik, Verhaltensökologie und Soziobiologie, Kognitive Ethologie, Neurobiologie; Verwaltung; Bibliothek; Stabsstellen: Forschungskoordination, Kommunikation, Informationstechnologie, Betriebstechnik
2 - Materialanlieferung/Einkauf
3 - Forschungsplattform Degenerative Erkrankungen; Forschungsgruppe Soziale Evolution der Primaten
4 - Abteilung Kognitive Neurowissenschaften
5 - Tierhaltung
6 - Bildgebungszentrum; Abteilung Funktionelle Bildgebung

Anreise mit dem PKW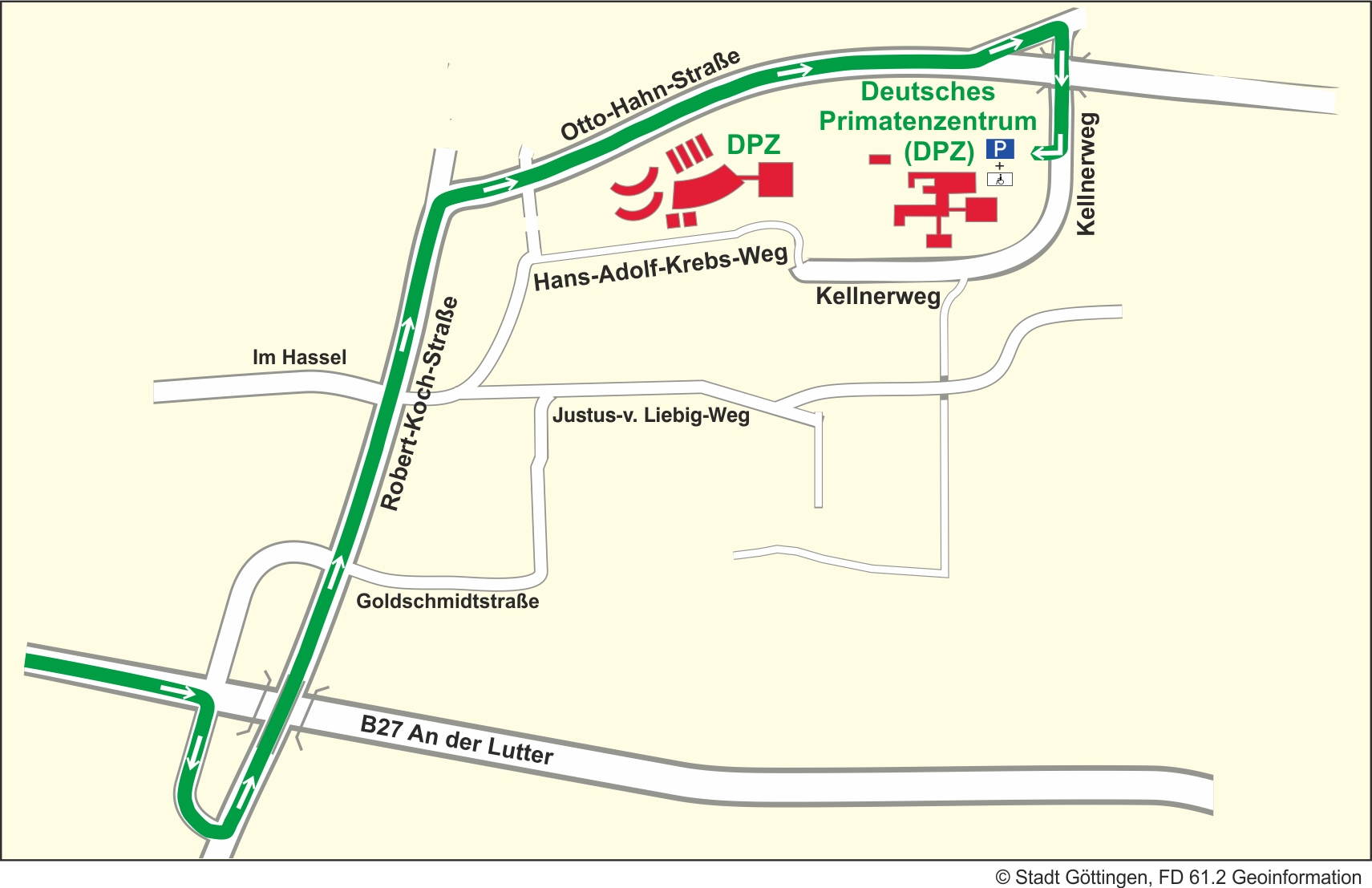 Folgen Sie von der Autobahnausfahrt "Göttingen Nord" der B27 in Richtung Braunlage bis zur dritten Ampelkreuzung. Biegen Sie rechts ab Richtung Kliniken und anschließend links in die Robert-Koch-Straße. Am Ende der Straße fahren Sie rechts in Richtung Nikolausberg auf die Otto-Hahn-Straße. Die erste Straße zu Ihrer Linken ist der Kellnerweg, das Primatenzentrum ist ausgeschildert.


Anreise mit dem Bus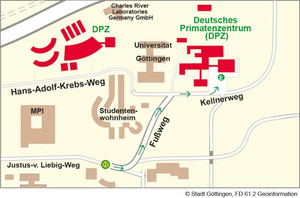 Ihr Fußweg von der Bushaltestelle Kellnerweg zum DPZ-Haupteingang/zur Anmeldung:
Von der Bushaltestelle Kellnerweg (Linie 21/22 und 23) Straße überqueren, in Fahrtrichtung des Busses gehen. Am Briefkasen links in den Fußweg einbiegen und rechts halten. Am Ende des Fußwegs rechts in den Kellnerweg abbiegen. Der Haupteingang des DPZ liegt dann auf der linken Seite.
Date and Time 10.06.19 - 00:00 - 13.06.19 - 00:00 Open for signup
Organiser
FELASA (Federation of European Laboratory Animal Science Associations)
www.felasa.eu
Contact
Congress Secretariat
GUARANT International spol. s r.o.
Na Pankráci 17, 140 21 Prague 4
Tel: +420 284 001 444, Fax: +420 284 001 448
E-mail: info@felasa2019.eu
Web: www.guarant.com
Back to list