"Animal Models and Preclinical Research 2019" (AniMod 2019)
Save as calendar entry
The Center for Genetic Engineering and Biotechnology of Havana (CIGB), the Cuban Society of Pharmacology, The National Center for the Production of Laboratory Animals (CENPALAB), have the pleasure to announce the International workshop "Animal Models and Preclinical Research 2019" (AniMod 2019), to be held from May 5st to 9st, 2019 in Varadero, Cuba, the country in the Caribbean with endless summer.
The main objective of this workshop is to promote knowledge and application of animal welfare and 3Rs, stimulating a "Culture of Care", in the process of development and use of animal models. We also intend to promote scientific and regulatory advances in the preclinical phase of biopharmaceutical products.
The new edition will focus on updating the national and international scientific community in the most relevant results, providing an invaluable occasion for scientific exchange with the most relevant researchers in this field. You will have the opportunity to both network and key leaders from the international academic and corporate Animal Models and Preclinical Research communities.
The program of this event will cover the following topics:
1. Animal welfare and development of biopharmaceuticals products under pre-clinical regulatory requirements and the application of 3 Rs
2. Alternative methods to animal experimentation
3. IACUC and its role on the care and use of laboratory animal
4. Environmental Enrichment and Behavioral Management
5. Animal model development
6. Staff training and Facilities accreditation
7. Updating preclinical regulatory framework and development of the preclinical phase of biotechnological and pharmaceutical products
The great possibility to exchange and exhibit products from a specialized company will be also allowed in the framework of commercial technical sessions.
Anfahrtswege zum DPZ
Lageplan des DPZ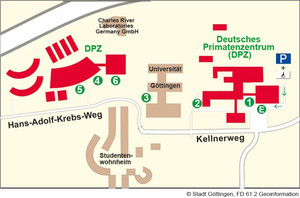 E - Haupteingang/Anmeldung
1 - Geschäftsführung; Abteilungen: Infektionsbiologie/-modelle, Versuchstierkunde, Primatengenetik, Verhaltensökologie und Soziobiologie, Kognitive Ethologie, Neurobiologie; Verwaltung; Bibliothek; Stabsstellen: Forschungskoordination, Kommunikation, Informationstechnologie, Betriebstechnik
2 - Materialanlieferung/Einkauf
3 - Forschungsplattform Degenerative Erkrankungen; Forschungsgruppe Soziale Evolution der Primaten
4 - Abteilung Kognitive Neurowissenschaften
5 - Tierhaltung
6 - Bildgebungszentrum; Abteilung Funktionelle Bildgebung

Anreise mit dem PKW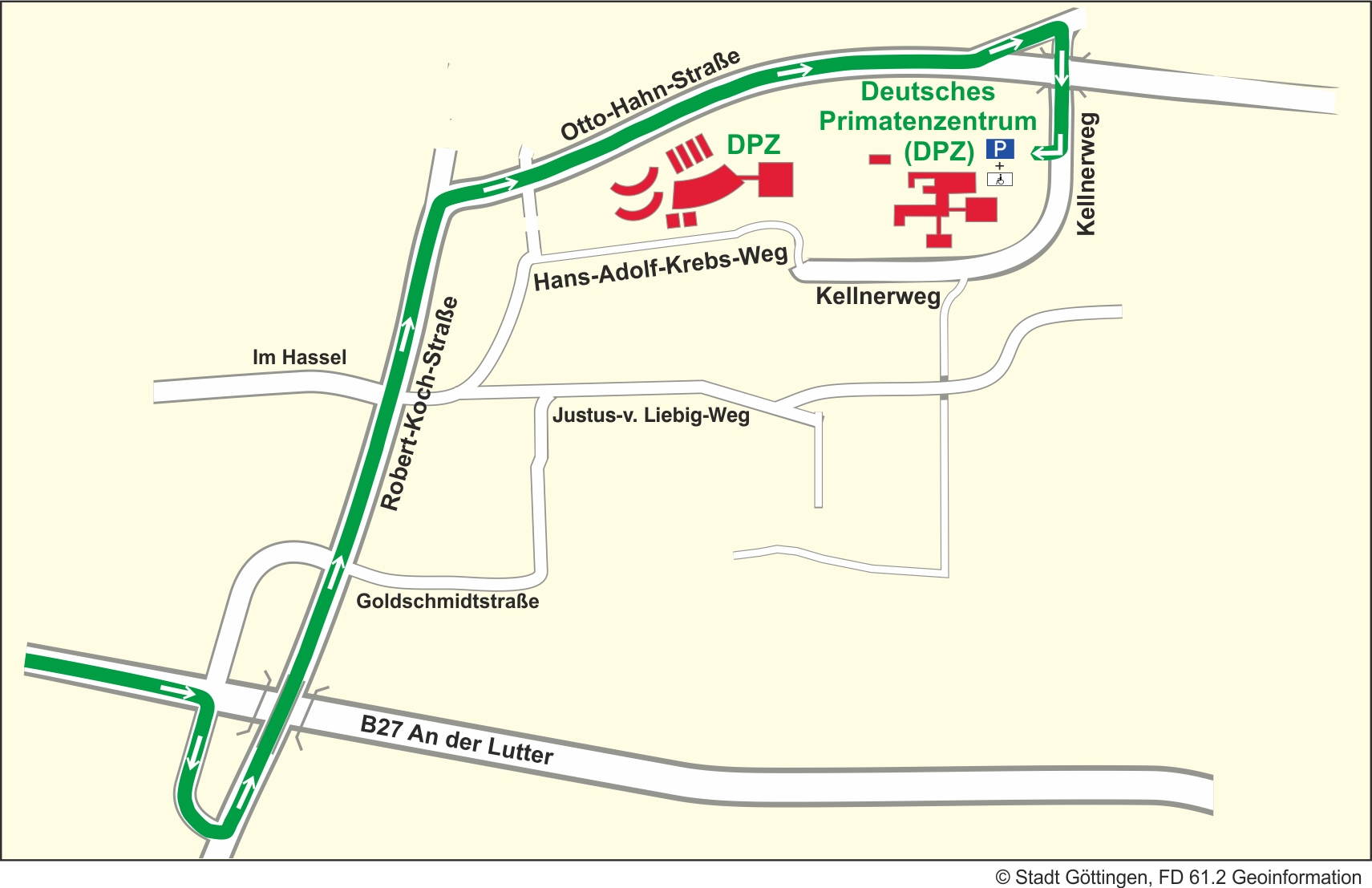 Folgen Sie von der Autobahnausfahrt "Göttingen Nord" der B27 in Richtung Braunlage bis zur dritten Ampelkreuzung. Biegen Sie rechts ab Richtung Kliniken und anschließend links in die Robert-Koch-Straße. Am Ende der Straße fahren Sie rechts in Richtung Nikolausberg auf die Otto-Hahn-Straße. Die erste Straße zu Ihrer Linken ist der Kellnerweg, das Primatenzentrum ist ausgeschildert.


Anreise mit dem Bus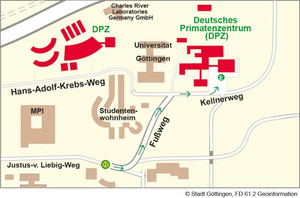 Ihr Fußweg von der Bushaltestelle Kellnerweg zum DPZ-Haupteingang/zur Anmeldung:
Von der Bushaltestelle Kellnerweg (Linie 21/22 und 23) Straße überqueren, in Fahrtrichtung des Busses gehen. Am Briefkasen links in den Fußweg einbiegen und rechts halten. Am Ende des Fußwegs rechts in den Kellnerweg abbiegen. Der Haupteingang des DPZ liegt dann auf der linken Seite.
Date and Time 05.05.19 - 16:05 - 09.05.19 - 16:05 Open for signup
Organiser
The Center for Genetic Engineering and Biotechnology of Havana (CIGB)
The Cuban Society of Pharmacology
The National Center for the Production of Laboratory Animals (CENPALAB)
Contact
DMV Jorge Castro Velazco,
President Organizing Committee
E-mail: animod@cigb.edu.cu
Sergio Pimentel
Events, Cuba Office of Skedio, SL.
E-Mail: eventos@skediotravel.com
Back to list