PRIMTRAIN Journal Club
Save as calendar entry
Cognitive bias to assess psychological wellbeing in non-humans primates. How can we move from theory to practice?
In the frame of primTRAIN COST-Action and the WG1 "Providing Scientific Evidence", I'm pleased to invite you and your colleagues to the next on-line Journal Club on
May 23rd, 2018 from 04:00 to 05:00 pm (GMT+1):
During this webinar Emily will talk through the traditional cognitive bias method developed to measure 'optimism' and 'pessimism' in nonhuman primates (Bethell et al. 2012). A challenge facing welfare scientists is how to apply what we learn from experiments to develop tools that can be used in real world settings. I will discuss the pros and cons of the cognitive bias methodology for application in primate facilities and identify future directions.
Emily Bethell is actually a Senior Lecturer in Primate Behaviour at the Liverpool John Moores University (https://www.emilybethell.com/) and she is working on the study of animal emotions and cognition since 1997.
EJ Bethell, A Holmes, A MacLarnon, S Semple (2012). Cognitive bias in a non-human primate: Husbandry procedures influence cognitive indicators of psychological well-being in captive rhesus macaques. Animal welfare 21(2):185-195
DOI: 10.7120/09627286.21.2.185
Previous registration to the Journal Club is mandatory.
Please fill in the on-line form on the following link by Tuesday, May 22nd. After registration, you will receive all information to connect to the webinar room 24 hours before the beginning of the meeting.
Administration
Pau Molina Vila
Referent
Emily Bethell
Anfahrtswege zum DPZ
Lageplan des DPZ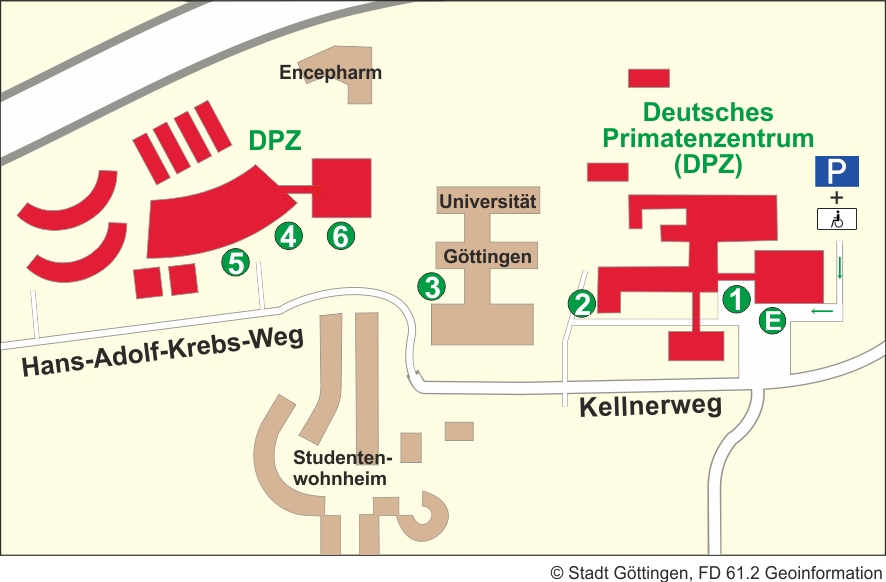 E - Haupteingang/Anmeldung
1 - Geschäftsführung; Abteilungen: Infektionsbiologie/-pathologie/-modelle, Primatengenetik, Verhaltensökologie und Soziobiologie, Kognitive Ethologie, Neurobiologie; Verwaltung; Bibliothek; Stabsstellen: Forschungskoordination, Kommunikation, Informationstechnologie, Betriebstechnik
2 - Materialanlieferung/Einkauf
3 - Abteilung Stammzellbiologie
4 - Abteilung Kognitive Neurowissenschaften
5 - Primatenhaltung
6 - Bildgebungszentrum

Anreise mit dem PKW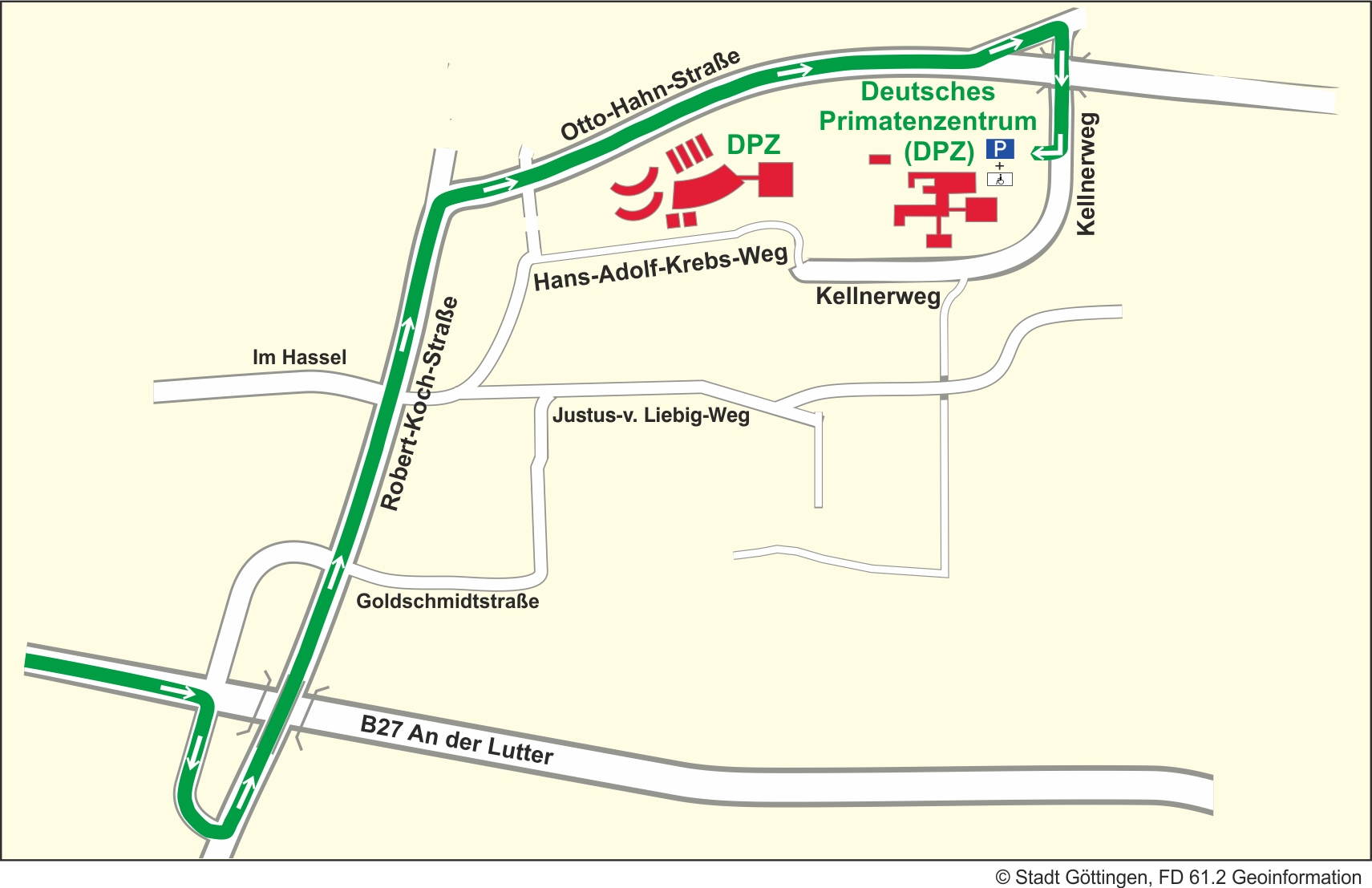 Folgen Sie von der Autobahnausfahrt "Göttingen Nord" der B27 in Richtung Braunlage bis zur dritten Ampelkreuzung. Biegen Sie rechts ab Richtung Kliniken und anschließend links in die Robert-Koch-Straße. Am Ende der Straße fahren Sie rechts in Richtung Nikolausberg auf die Otto-Hahn-Straße. Die erste Straße zu Ihrer Linken ist der Kellnerweg, das Primatenzentrum ist ausgeschildert.


Anreise mit dem Bus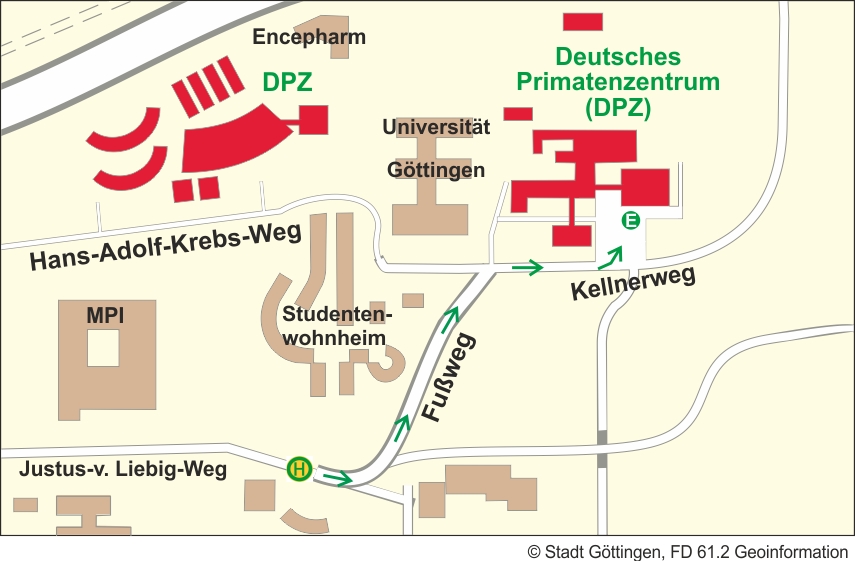 Ihr Fußweg von der Bushaltestelle Kellnerweg zum DPZ-Haupteingang/zur Anmeldung:
Von der Bushaltestelle Kellnerweg (Linie 21/22 und 23) Straße überqueren, in Fahrtrichtung des Busses gehen. Am Briefkasen links in den Fußweg einbiegen und rechts halten. Am Ende des Fußwegs rechts in den Kellnerweg abbiegen. Der Haupteingang des DPZ liegt dann auf der linken Seite.
Date and Time 23.05.18 - 16:00 - 17:00 Open for signup
Back to list